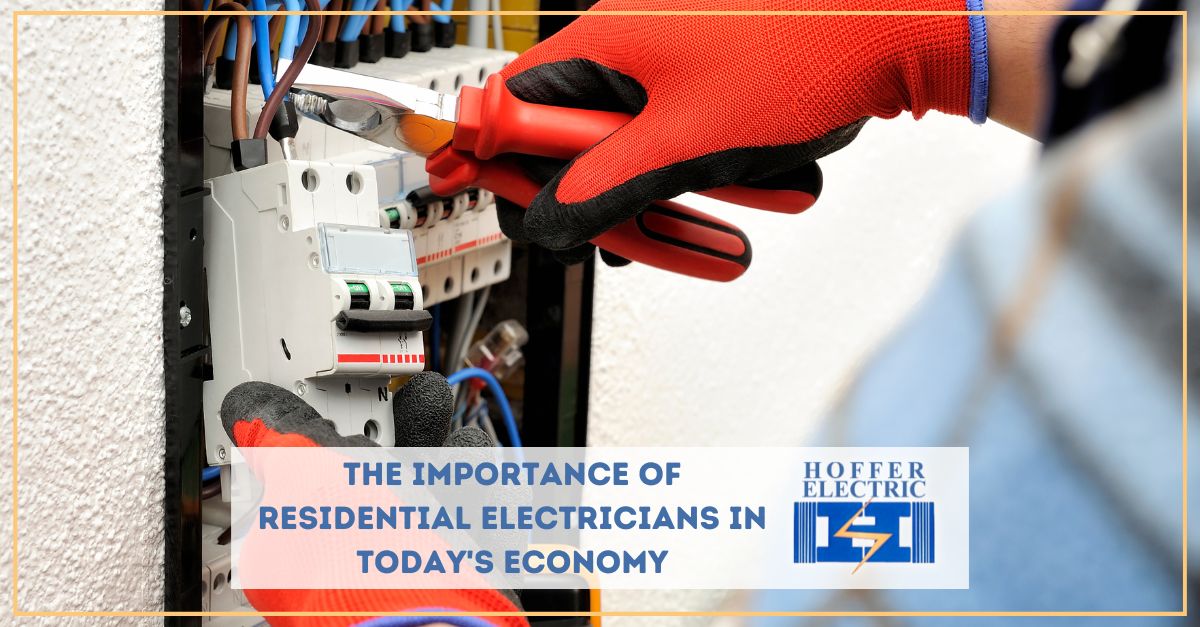 Experts in all facets of electrical work, from installation to maintenance and repair, residential electricians are indispensable. Homeowners and business owners who care about the security of their properties must realize the critical nature of hiring a qualified residential electrician. You, the homeowner, understand the significance of maintaining your property in excellent condition. In addition to improving the quality of your daily life, this move may increase the resale value of your home.
Keeping your house's electrical system up to date and in good working order is essential to home maintenance. Your home's electrical system is one of them. Most homeowners can probably do minor repairs and upkeep on their own, but anything more involved is better left to the experts. Irrespective of the scope of the project, these are the circumstances in which you should always contact a residential electrician.
Electrical Work Can Be Dangerous if Not Done Properly
Working with electricity is a high-risk occupation. While accidents involving contact with live electrical current may happen anywhere, they occur more often in houses when the homeowner is trying to repair an electrical problem. Because of this, it is crucial that you only ever work with licensed residential electricians. Please ensure the individual installing your new light fixture or performing your complete house's rewiring has the proper training and licensing for domestic electrical work before entrusting them with your electrical needs.
A handyperson or other tradesperson may not have the proper education to carry out the job you need in your house, leading to more effort and expense than if you had employed a professional from the start. Do-it-yourself electrical repair comes with dangers to both your safety and your wallet. For example, if your house was constructed before 1978 and you're looking into getting new wiring, you should know that some materials are no longer safe to use since they might break under normal settings.
It's Important to Have an Expert Look at Your Electrical System Occasionally
Your house probably has had electricity ever since it was constructed. It is crucial to ensure the safety and efficiency of your home's electrical system, whether you are a first-time buyer or a long-time resident. Nobody wants to find out about a problem with their electrical system when it's already too late to prevent a calamity. Routine checks of the wiring in your home and the fuse box, which contains the fuses that safeguard you from harmful currents, are the best method to guarantee the system is in good operating condition.
The wiring in your house is examined as part of a residential electrician's examination for indications of damage or wear and tear that might compromise your electrical system's efficiency. A professional electrician in your area can monitor the state of your electrical system, identify any issues, and recommend and implement appropriate solutions to keep everything running smoothly.
Residential Electricians Have the Necessary Training and Experience 
It's comforting to know that no safety hazards lurk in our house's walls because of improper wiring during construction. However, many older houses and flats have outdated or damaged electrical wiring. With the introduction of cutting-edge appliances and systems, more and more individuals want to improve their homes' electrical infrastructure. While it's natural to want the best for your loved ones and dwelling, DIY electrical repairs may be risky if you lack the necessary training and knowledge.
Hiring a household electrician is the only way to ensure your property is properly wired. Professional residential electricians will have the knowledge and expertise to ensure that your house is wired properly and safely for you and your family. Suppose you need anything from installing a new outlet or ceiling fan to more extensive work like installing a whole-house generator. A residential electrician can accomplish it while adhering to all applicable rules and safety requirements.

They Can Help You Save Money in The Long Run by Identifying Problems with Your Electrical System
It's common knowledge that the economy is struggling. It's becoming increasingly difficult to make ends meet as the middle class continues to shrink, and the number of people living in poverty rises. However, this hasn't dampened the optimism of those looking forward to the future. If you fall into this category, chances are you're excited about buying a house and raising a family in the future. Checking the functionality of your new home's electrical system should be among your priorities.
If there is a problem, you'll want to address it as quickly as possible to prevent it from worsening. A household electrician will be able to assist you with such needs. They may inspect your home's electrical setup for any issues, from the HVAC and lights to the outlets and switches. They may also estimate how much it would cost to repair the issues, letting you determine whether doing so is financially feasible.
From common issues such as broken outlets or switches to more complex problems like full-house panel upgrades or installation of lighting and home entertainment systems, Hoffer Electric can help you with whatever issue you are facing. If you live in Los Angeles County and are looking for reliable residential electricians, do not hesitate to contact us at 323-329-6064 or 323-329-6064.