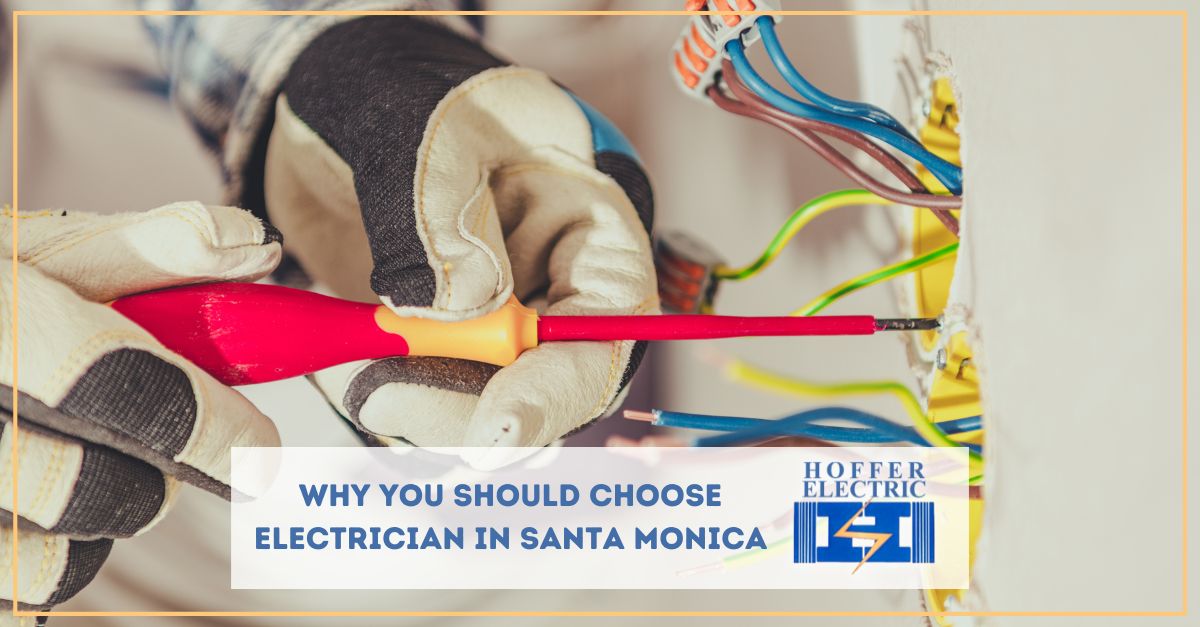 An electrician in Santa Monica is a professional who can be hired to make any electrical repairs in the house. There's no doubt that choosing the right electrician is a critical decision. When choosing a professional, you can rely on them to do quality work; you must take the time to learn more about each company you are considering hiring. It would help if you chose them to do the job instead of doing it yourself for many reasons. Here are five reasons Why You Should Choose electrician Santa Monica:
Experience in Their Field
When you need any electrical work done in your home, the place to go is with a local electrician. These people are some of the most important in the building trades, and knowing how to find a trustworthy one can make a huge difference in whether or not your home repairs are completed correctly and safely. This is especially true when installing electrical systems that power your home and keep things connected, like outlets, light fixtures, and all appliances. 
The right electrician can help you with everything from rewiring old homes to helping you put the finishing touches on a brand-new one. When it comes to hiring a good local electrician, there are many things you'll want to look for: first, you should make sure they have experience working on homes like yours.
Electricians Santa Monica Are Professional and Reliable
When faced with an electrical problem, bringing in a pro is the right idea. You don't want to get hurt or hurt anyone else, and you don't want to risk a fire or loss of power to your home. Electrical problems can range from relatively minor (like flickering lights) to pretty serious (like electrical shorts), and whether it's big or small, you'll want someone who knows what they're doing here. 
If you're lucky enough to live in Santa Monica—one of the most popular cities in California—you have a lot of companies to choose from. When it comes down to it, though, we are professional and reliable. We've got experience and training on our side, but we'll focus on our price point for this guide.
Quality Services Provided
It should be the most critical factor in your decision, to work with an electrician who will provide quality work. With many cheap electricians available, it can be tempting to go with someone who charges less, but you should think twice before going this route. 
An inexperienced or unqualified professional may leave you with more problems than they solve, so spending extra on someone who knows what they're doing is worth it. Thankfully, qualified professionals are easy to come by: some electrician Santa Monica team has been helping homeowners for over 40 years, so they know what they're doing.
They Are Affordable
The first thing you need to know about hiring an electrician in Santa Monica is that you can save money. Although the cost of an electrician in Santa Monica may seem high initially, it's essential to consider the value that they can provide for you. A good electrician in Santa Monica will be able to save you from any mistakes and make sure the job is done correctly. The peace of mind that comes with this is priceless, meaning your initial investment will be returned tenfold.

There Is a Satisfaction Guarantee
When choosing a company to work with, you want to ensure they will be there for you in case something goes wrong. The company will not only do the needed work, but they will also guide you through the process. If there are any problems with services or products, the electrician in Santa Monica will ensure that they are resolved to your satisfaction. The fact that there is a satisfaction guarantee on the service is excellent for anyone who needs an electrician in their home. You will know that you can trust this company because of its reputation and because they stand behind what they do.
The top Los Angeles electrician for both homes and businesses, we are a family-run business. We have been in the electrical business for over 40 years, so we know what we're doing and can provide a wide range of services. Residential wiring, commercial office buildings, retail centers, and tenant improvements are all areas in which we specialize. We have earned a stellar reputation among homeowners and general contractors for the superior quality of our work, reasonable rates, and timely completions. Our company is run by a Master Electrician licensed in Los Angeles, and all of our Journeyman Electricians have valid licenses from the state. Call us today for more information.