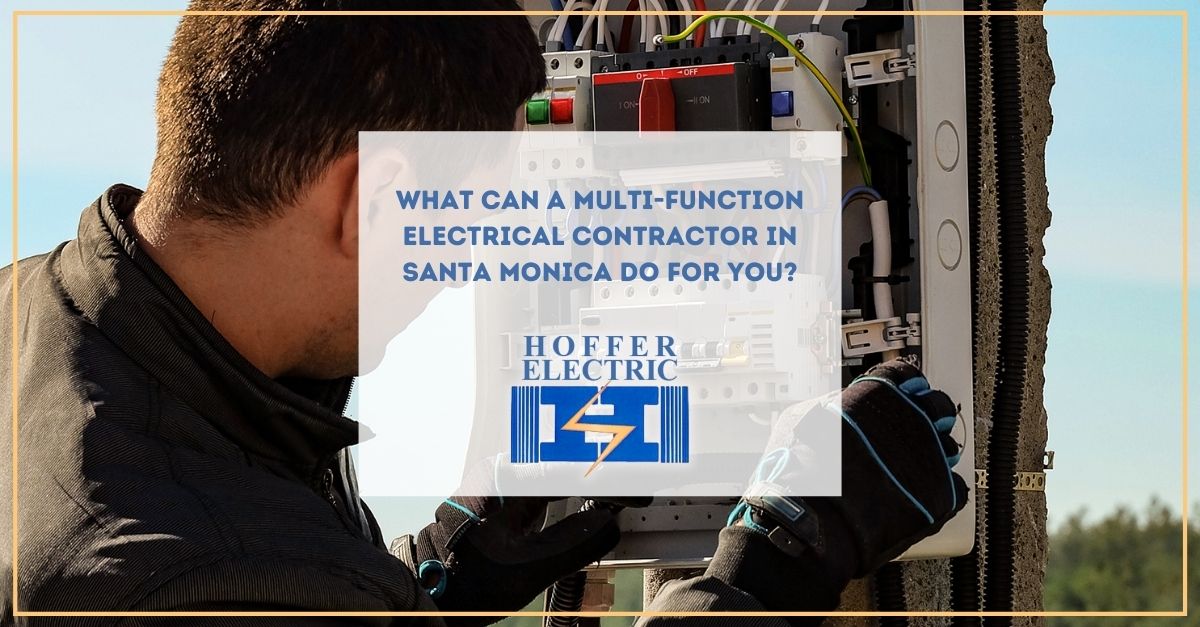 A multi-function electrical contractor in Santa Monica is just another way of saying "An electricians service where they do lots of stuff." As you know, there are some electricians services where they work on commercial property and others where they work on residential things, or on agricultural buildings and some on oil rigs. A multi-function service is a multi-discipline service. They are the sort of electricians you can set to any task and they have somebody on staff who is an expert.
What Can They Do For Me?
It all depends on the type of electrician services you need. They can do everything from wiring up the electronics on your boat, to setting up your electric car charging station. The most commonly requested services for residential buildings are:
New Circuits
Panel Upgrades
New Breakers
Recess Lighting
Ceiling Fans & Attic Fans
Troubleshooting
Recessed & Track Lighting
Hot Tubs & Saunas
Troubleshooting & Repairs
Service Changes & Panels
Kitchens & Bath Remodeling
Aluminum repair & Rewire
Landscape & Yard Lighting
220 Range & Dryer Circuits
Be very careful when hiring somebody to work in a residential area. There are a lot of rogue traders out there who know a bit about electronics, but they do not know enough to keep you safe.
What About Commercial Buildings?
Frankly, there are so many different facets to commercial buildings that it is difficult to nail down all the available services. Some companies need electrical checks because their insurance companies insist on them, and others need industrial machinery wired up. Here are a few common requests that electricians have to deal with.
Retail Electrical Repairs
Pools & Spa wring
New Breakers
Troubleshooting
Office Buildings
Ballasts Replacement
New Construction & Remodeling
New Circuits
Phone & Computer Wiring
Lighting Systems & Repairs
What About Industrial Concerns?
In many cases, in an industrial setting, there is a bigger emphasis on safety. This is often because the voltages are much higher. Plus, there are added environmental hazards that often need to be accounted for. Here are a few of the most commonly requested services for industrial concerns.
Explosion Proof Electrical Equipment
Control & Automation Equipment
Machine Shops & Cabinet Shops
Airport Hangers & Metal Buildings
High Voltage System Installation
Since industrial setups can be very dangerous, you may need an electrician that is correctly insured. Some contractors may not be insured to enter dangerous areas or work in hazardous conditions. Be sure to fully explain the situation to the contractor before hiring and figure out how much of your and their insurance covers possible accidents.
Where Do I Find A Multi-Function Electricians Service?
If you are looking for an electrical contractor in Santa Monica, then the only multi-function service in the area is Hoffer Electric. The team is staffed with multi-discipline professionals who have years of experience and knowledge that they can apply to your project. If you need any form of electrical work, big or small, then get in touch. You will be pleasantly surprised.