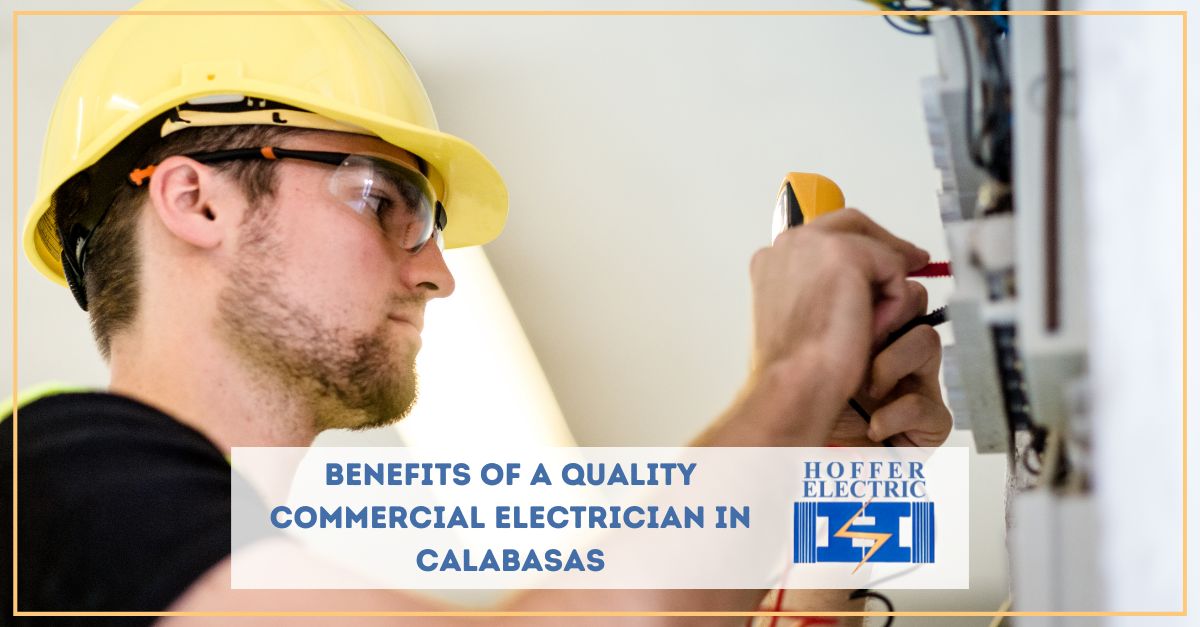 A quality commercial electrician Calabasas is the best option for you. A commercial electrician is a professional who specializes in the installation, repair, and maintenance of electrical systems used in commercial buildings. A business owner can benefit from hiring a qualified commercial electrician to inspect his property's wiring and lighting systems regularly. There are many benefits of hiring a quality commercial electrician that you can enjoy. Here are 4 Benefits of a Quality commercial electrician in Calabasas:
You Get Quality Products and Services
While it is true that you can find cheap brands of items and services, it is essential to remember that you get what you pay for. Many people think they can get away with paying the lowest price possible, but they will regret the decision later. Plus, why would you want to go cheaper when you can get the best quality? Not only are quality brands and services more reliable, but they also look better. However, all of these benefits pale compared to the peace of mind that comes from knowing your investment is safe. In addition, a quality brand and its service will last longer than an inferior one. Therefore, you can spend money on something other than new things or replacements.
Help Prevent Fires
If you are a business owner in the area, you should know the benefits a commercial electrician in Calabasas can bring. For example, a significant fire risk is associated with many businesses, especially ones dealing with open flames, like restaurants or factories. That's why hiring someone who knows what they're doing and can help prevent fires in your business is essential. Many people only think about this problem once it's too late when their business catches on fire and causes significant damage or even destroys everything. But not only is that expensive for your business, but it also hurts your reputation among customers and other businesses. Even worse if someone gets hurt because of something that could have been prevented.
Commercial Electrician in Calabasas Can Help Improve Energy Efficiency
Trying to figure out how to convert your home or business into one that uses less energy can be a lot of work. While it's easy to start by making more minor adjustments, like switching light bulbs, adding insulation, and changing some of the appliances you're using, sometimes it can be more cost-effective and efficient to hire an electrician to do the job for you. While plenty of benefits come from hiring a professional electrician, here are just a few: 
The first benefit has to do with the fact that these professionals know what they're doing. They've worked within their industry for years and have the know-how and experience to do the job right. They'll be able to make sure your wiring is in good shape and have a good idea of whether it makes sense to add additional circuits. 
Suppose you already have an established electrical system in place. In that case, there's one reason why you may consider hiring a professional instead of doing it yourself: they're going to make sure everything is up-to-date. People often buy or rent older homes or commercial properties, only to find that electrical system parts must meet current building codes. Which causes the need for a commercial electrician to be involved.

Save Money on Electricity Bills
Can you imagine how much money you could save if you found a quality commercial electrician? That's a lot of money to be wasting on high bills when there are many things you could do to save yourself some cash. When you upgrade your business to a more energy-efficient setting, you are helping the environment and saving money on electricity bills. Commercial Electrician Calabasas will help you do this in time for the new year. To begin with, commercial electricians are experts at controlling energy flow from your business building to the outside world. They are highly skilled in ensuring your power usage is as efficient as possible.
In addition to their residential offerings, Hoffer Electric is Los Angeles's go-to for various electrical business needs. Electrical services like new circuits, new breakers, ballast replacement for electrical lights, and troubleshooting for electrical appliances are all available to customers in a retail setting. Our family has served the Los Angeles region for over four decades as a premier electrical contracting business. Free Quotes fully licensed, bonded, and insured, with savings for the elderly and Veterans, contact us today for more information.