Los Angeles Video Surveillance Company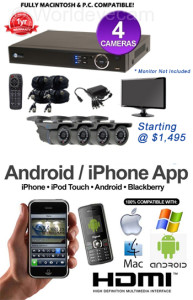 Home Camera Video Security System
MAC and Windows Compatible H.264 1080p HD – Complete Camera Video Security Camera Systems
DVRs, Cameras, Wiring, Complete Setup.
Our High End DVR Camera systems brings the quality and integrity professional installers and end users alike have come to appreciate. Fully functional client software gives you the capacity to monitor your home or business from any application you choose, be it your smart phone, laptop or MAC or Windows PC.
This package includes your choice of 2,4,8 and 16 camera systems with a FREE pre-installed surveillance rated hard drive with MOTION RECORDING, Power Supplies, Video/Power Cables, IR Remote Control, your choice of SONY High Resolution Color Vandalproof INFRARED w/ NightVISION Cameras. These cameras are rated for Outdoor or indoor use. The iMaxCamPRO DVR is a high quality Linux based Digital Video Recorder and Remote Video Server. Our unique software also allows for REMOTE RECORDING. In the event that your DVR is stolen or vandalized, you will have live video recording remotely to a remote PC or another PC on-location to monitor and record. View LIVE VIDEO from any Windows PC, MAC Apple Computer, iPhone, iPad, Android, Windows Mobile and Blackberry devices
Call Hoffer Electric today at (323) 329-6064 for more information!