What Makes a Successful Commercial Electrician in Woodland Hills?
Owning commercial property comes with a lot of responsibility, including making sure your space has safe and effective electricity for those inside to do the work they do. Whether you are looking to build new buildings on your property, are upgrading existing electrical work as part of a renovation, or having trouble with your current electricity and need help, a commercial electrician is the person to call. However, how are you to know who the best one in the area is for your needs? It is a good idea to have some idea regarding what goes into making a successful commercial electrician in Woodland Hills, so you know the aspects to look for in the service you plan to hire.
Licensing and an Experienced Electrician
There are several important aspects to consider when hiring an electrician. None may be more important than the licensing that they have. Any electrician should be properly licensed by the state. That way, you know they have met the official standards regarding education and training in electrical work. Beyond licensing, experience plays a vital role as well. You need to know that the people working on your electrical work have vast experience at this level so that they know what to look for and how to execute services expertly and safely.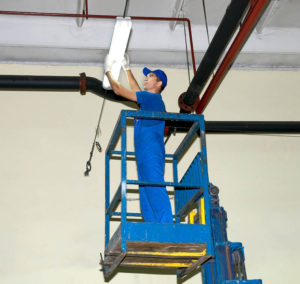 An Electrician and Word of Mouth
A successful commercial electrician in Woodland Hills is going to be a service that gets lots of recommendations from past and current clients and customers. Word of mouth is still the most important marketing tool out there. So you should ask other property and business owners in the area. What company have they used for their electrical services?. Ask if they perform their jobs well and get everything done effectively, on-time and within budget. Those who do so will surely get recommendations from others.
The Commercial Electrician to Call
If you are looking for a commercial electrician in Woodland Hills to help you with an electrical project or repair, make sure to call us here at Hoffer Electric. We have worked in the area since 1967. Our company helped thousands of residential and commercial customers over the years with their electrical needs. We are fully licensed, bonded and insured and can help you with any and all your electrical projects. To schedule a service call, you can phone us at (323) 922-5205. We will be glad to provide you with a consultation and free estimate for the work you need.