Electrician Sherman Oaks, CA – Why Work with Us?
We are here for you 24 hours a day, seven days a week, and we will rush to your aid if you need the assistance of an electrician in Sherman Oaks, California. Our staff is here to assist you whenever it is convenient for you with electrical servicing and repair needs. We uphold the values that our firm was founded on, which are dependability and quality in everything that we do. These are the standards by which we live. 
Their work is guaranteed, they have received comprehensive training, and apprentices operate under the supervision of our more experienced electrical contractor. At Hoffer Electric, we will attempt to address any concerns brought to our notice and solve any problems brought to our attention to achieve a great end for our team members and our client. Here are some reasons why you should contact us for your electrical services in Sherman Oaks, CA.
Our Electrician's Workmanship Is 100% Guaranteed.
Electrical services in Sherman Oaks, CA, are what we do best at Hoffer Electric. As a result, we provide a complete money-back guarantee on all our services. In other words, we don't simply say it; we also commit to it in writing. With Hoffer Electric, you can relax knowing that your electrical requirements are in the hands of a business with the necessary training and experience to do the job well. In the Sherman Oaks, CA area, you can rely on us to complete the work perfectly the first time. Our work on your property will be thorough, and if for some reason we make a mess, or you are dissatisfied with our performance, you may contact us back for free, and we will make things right. It doesn't matter whether you have a little or a large project; we can manage it all with the same simplicity.
Our Electricians Are Trained and Experienced
When dealing with a broad range of electrical issues, many underestimate the talent and experience required, particularly if they have never worked with electricity before. Work with an expert to ensure your safety and that you don't lose control when anything goes wrong. We can stand out from the crowd since we are one of the most experienced residential electricians or commercial electricians in the area, as we can handle a broad range of electrical problems. 
Everything from a single outlet or light fixture replacement to a whole home or business electrical system upgrade is within our scope of expertise. As a Sherman Oaks, CA-based company, we also have access to some of the greatest items on the market today. We're also proud of our reputation, and we want to make sure you'll be glad to refer us to your family and friends when the time comes. Consequently, all of our services are backed by a 100% satisfaction guarantee from our team of skilled electricians.
Our Electrician Sherman Oaks, CA, Is Well Insured
You may have complete faith that our professionals will provide excellent service and leave behind a house that is secure and up to code when they go. We have been doing business in the Sherman Oaks region for over 20 years, and we are completely licensed, bonded, and insured for our customer's protection. We take pleasure in our work, and we guarantee everything we do. Please let us know within the next twenty-four hours or less if you are unhappy with our service, and we will promptly provide a refund. When we depart, we ensure that the workplace will be clean (which means no trash or debris left behind). Our customer assistance is accessible around the clock, seven days a week.
Our Electricians Will Conduct Themselves with Honesty and Integrity
Keeping your home secure and pleasant doesn't have to be a costly and stressful undertaking if you know what you're doing. We at Hoffer Electric can assist you in creating a home energy strategy that only provides you with the power you need. With our Sherman Oaks, CA electrical service prices as low as they are — and with incentives for returning clients — we'll help you save even more money! Honesty and ethics are expected of all of our electricians. 
When our electrical contractor comes to your house, he won't leave until he's addressed all of your questions, even if that means staying longer than planned. We feel it's important to offer our clients up-front information regarding the cost and scope of their job. We feel it's important to provide our clients with complete and up-front information regarding their job's cost, scope, and timeline. That's why when our electrician Sherman Oaks, CA, shows up at your house, he won't leave until he's answered all of your questions completely.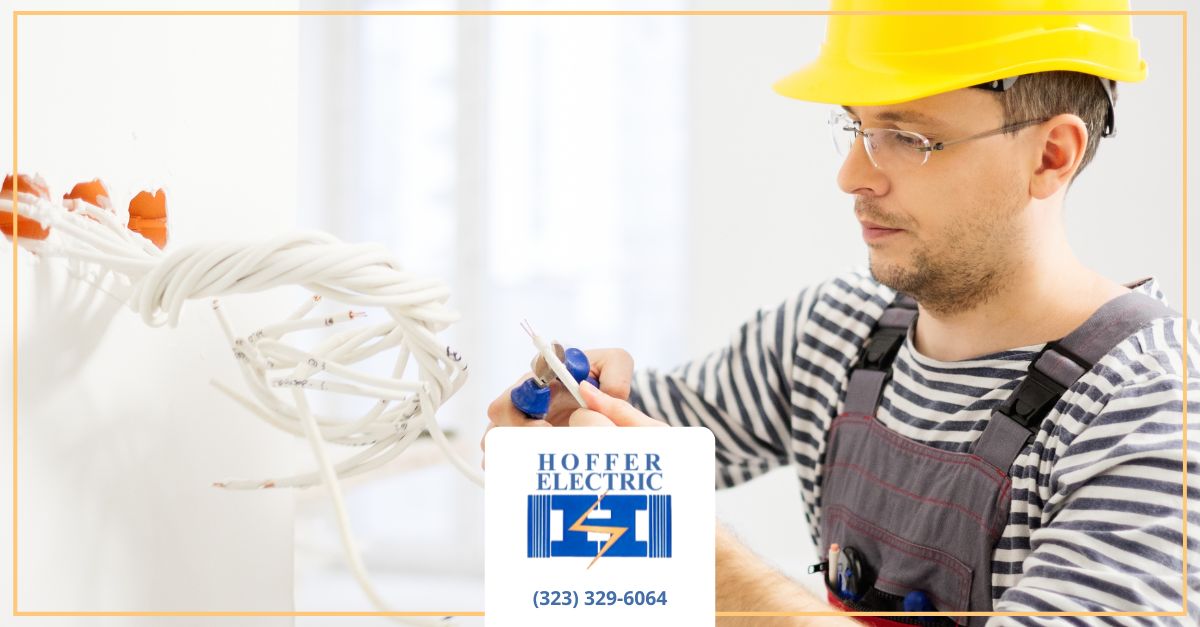 We'll Find the Best Solution for You.
We at Hoffer Electric provide our customers with a wide range of electrical services. We are aware that each project has unique requirements for how it should be managed, and we will do all in our ability to locate the option that will work best for your Sherman Oaks, California project. We will not attempt to sell you a product or service; rather, we will work together to ensure that you are receiving precisely what you need. To ensure that you discover the approach that best fits your needs, we will discuss the problem with you and go through the many potential solutions. If at any time throughout your project, you conclude that you have access to a more suitable alternative than the one currently being considered, we would be happy to assist you through the procedures required to implement the more suitable alternative.
If you are looking for an electrician in Sherman Oaks, CA, that offers all of these services, you can trust us. Our friendly and knowledgeable staff will answer any questions about our services or how we can manage your next project. To learn more about what we do and how we can help you with your next electrical project, call Hoffer Electric at (323) 329-6064 or (818) 999-4190 today.