A Commercial Electrician in Westwood Can Serve Many Businesses
Whether you own a small business with a simple office or storefront, or you have a large business like an entire office building or warehouse, there are going to be times where you have problems with your electrical work or need upgrades or improvements. It is a natural part of doing business, and you are going to want to find an electrical service that can work with you. Choosing an electrician that does commercial work will take some investigating on your part, but you will find that when you need a commercial electrician in Westwood, here at Hoffer Electric, we can serve any type of business and meet your needs.
Helping the Commercial Business
There can be all kinds of reasons why you may need the help of a commercial electrician for your small business. It may be that you are having trouble with your existing wiring or electricity and have constant problems that need troubleshooting. Perhaps you want to have new lighting installed at your retail establishment to better serve your customers. It could be you need new security lighting installed outside or new phone or computer wiring. At Hoffer Electric, we can assist you with all these issues.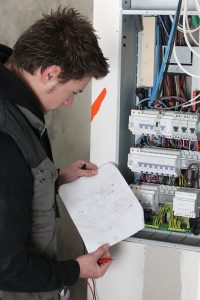 An Electrician for Industrial Work
At Hoffer Electric, we can be the commercial electrician in Westwood that you need for your industrial business or location. Finding a qualified service to work in large buildings or areas can be tricky. You want a service with experience handling high voltage systems or help you with your warehouse lighting or machine shop. We have vast experience working on jobs involving large industrial areas. Our experts can help you repair or install the electrical work.
Contact a Commercial Electrician in Westwood
If the time has come that you need a commercial electrician in Westwood to help your business, make sure to call us here at Hoffer Electric. For over fifty years we have served the businesses of the Los Angeles area. We will be happy to come in and work with you. You can call us at (323) 922-5205. We will gladly arrange a service call with you and provide you with a free estimate of the work needed so you can see we can do the job for you at a very fair price. The complete satisfaction of our clients is our main goal and we work hard to achieve this.