In the heart of Los Angeles, the concept of a perfect home is ever-evolving. The city's vibrant energy is reflected in its dynamic neighborhoods and their continually changing housing trends. If you're a homeowner in Los Angeles, you know that home remodeling projects are a common way to keep up with the city's evolving aesthetics and technologies. However, what might not be immediately apparent is the significant role of an electric company in these projects. In this article, we'll uncover how an electric company in Los Angeles, like Hoffer Electric, plays a pivotal role in home remodeling projects, ensuring safe and efficient electrical systems for your upgraded living spaces.
Designing a Modern Electrical Blueprint
Every home remodeling project in Los Angeles starts with a vision. Whether it's a kitchen renovation, a bathroom upgrade, or a full-scale house transformation, the first step is creating a modern electrical blueprint. Our electric company works closely with homeowners, designers, and contractors to plan the electrical layout of the renovated space. We assess the power needs, placement of outlets, lighting, and any special requirements to ensure the new design aligns with safety standards and meets the demands of modern living.
Ensuring Electrical Code Compliance
Los Angeles has specific electrical codes and regulations that must be adhered to during home remodeling projects. Our electric company's expertise in these codes ensures that all electrical work complies with local standards. This compliance is not only essential for safety but also for obtaining the necessary permits for your project.
Upgrading Electrical Panels
In many remodeling projects, the electrical panel may need an upgrade to accommodate the increased power demands of modern appliances and technology. Our electric company in Los Angeles is well-equipped to assess the existing panel's capacity and make necessary upgrades to ensure your home's electrical system can handle the remodeling additions.
Smart Home Integration
With the rise of smart home technology, many homeowners in Los Angeles are incorporating automation into their living spaces during remodeling projects. This includes features such as smart lighting, security systems, and integrated entertainment. Our electric company plays a central role in installing and integrating these systems, ensuring they function seamlessly and meet your connectivity needs.
Lighting Design and Installation
Proper lighting can transform a space. Our electric company in Los Angeles assists in choosing the right lighting options for your remodeling project. We offer a wide range of choices, from energy-efficient LED fixtures to elegant chandeliers, to create the desired ambiance and functionality in each room.
Ensuring Safety Through Ground Fault Circuit Interrupters (GFCIs)
In spaces where moisture is present, such as kitchens and bathrooms, GFCIs are essential for electrical safety. Our electric company installs GFCIs in the appropriate locations to protect you and your family from electric shocks and potential hazards.
Wiring for Entertainment Centers
In Los Angeles, the entertainment industry is at the city's core, and many homeowners prioritize creating entertainment centers during remodeling. Whether it's a home theater, gaming room, or a sophisticated audiovisual setup, our electric company can design and install the necessary wiring to support your entertainment needs.
Addressing Energy Efficiency
Homeowners in Los Angeles often seek ways to enhance their home's energy efficiency during remodeling. Our electric company can provide solutions like energy-efficient lighting, smart thermostats, and solar power options to make your home more eco-friendly and reduce energy costs.
Maintenance and Safety Checks
Once the remodeling project is completed, our electric company doesn't consider our job done. We offer maintenance and safety checks to ensure that the electrical systems continue to function optimally. Regular inspections can identify potential issues early and ensure the safety of your newly remodeled space.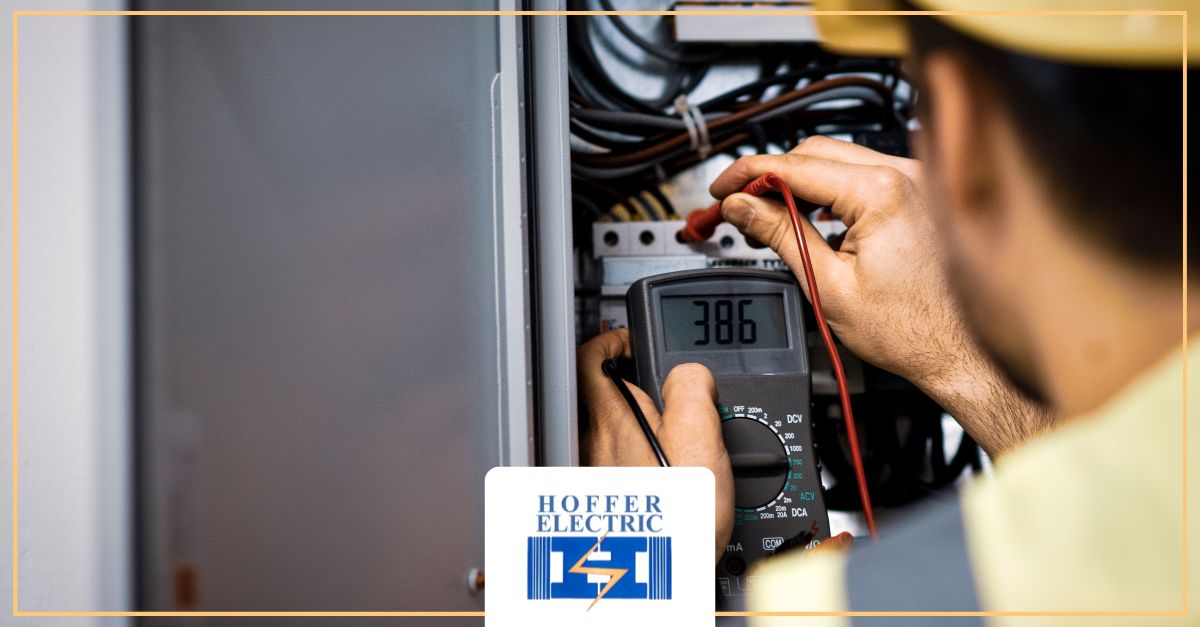 Supporting Your Vision
At Hoffer Electric, we understand that your home remodeling project is a reflection of your unique vision and style. We work collaboratively to make that vision a reality while ensuring that all electrical components align with your aesthetic and functional requirements.
In a city as dynamic as Los Angeles, where homes evolve with the latest trends and technologies, the role of an electric company in home remodeling projects is indispensable. Hoffer Electric is committed to turning your remodeling dreams into reality by providing electrical solutions that are safe, efficient, and in alignment with the modern lifestyle.